Math on y and x
Here you can enter any equation. Following functions accepted:
^ - Power only works with positive values
exp,ln
cos,sin,tan,ctg,asin,acos
abs,fil(=filin)
Examples of equations:
ln(x)
exp(-((x-50)/200))
12398/x
Simple math on y
Using this tool you can multiply graph Y values by 1st entered value and add 2nd entered. You can add (or multiply by) 3d value multiplied by Number of graph. (Useful if you want insert gaps between graphs)


Simple math on x
The same as above but for X values.
Math on graphs
Here you can add(subtract,divide,multiply by)one graph to all marked graphs. Useful for subtracting background and normalization.


Picker
click mouse over desired point in the graph window to add it to the list.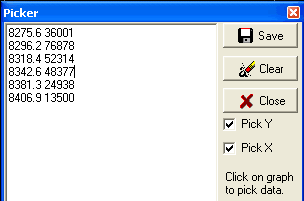 DISPO smoothing
smoothes graphs using 5 points DISPO smoothing.
Delete point at cursor
deletes point in the selected graph at the yellow cursor.