After the closing of the IX International Astronomy Olympiad in Simeiz and departure of most of the teams from the place of the events, the team of Armenia (2 team leaders and 3 students) stayed at the South Coast of Crimea for a few more days.
On Monday, October 11 at about 5 p.m. the students decided to have a swim. Sea was not quiet, the waves almost 1 m high (3b). So the second team leader Seryozha Nersisyan recommended the students not to swim. But nobody took his warnings seriously...
Suddenly all the three students felt they could not swim any longer, could not return to the shore. The first team leader Armen Oskanyan (55 years old) tried to rescue them. He saved one student, but while trying to help another one, he suddenly died (probably, from a hart attac). The second student de facto was saved by a local inhabitant V.V.Cheremis who had incidentally appeared on the coast at that moment. The third schoolboy - Artak Pepoyan - sunk and died in the water.
Information in Russian.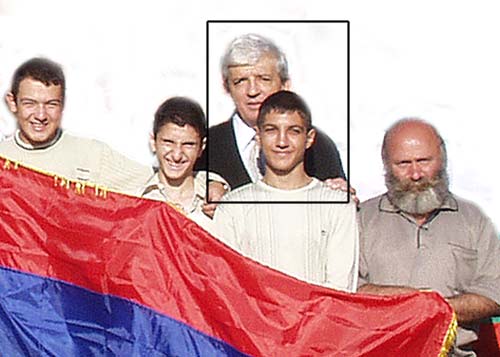 Photo of Armenian team with Armen Oskanyan and Artak Pepoyan
taken from the group photo of the IX Olympiad - 05.10.2004.
Our condolences to their families, to the Armenian team,
to the school where Artak studied and Armen worked as a teacher,
and to the people of Armenia.
Let's keep ourselves close to them.
Our condolences also for all organizers of the IX Olympiad.
Condolences to the chief of the House of Scientists V.V.Kovshun and M.G.Gavrilov - they took part in the final stage of saving the second student and taking Armen from the water, and the tragic event was finished on their eyes.