Russian Olympiad on Astronomy and Space Physics
---
An interest to astronomy arises in all age groups of children irrespectively of their place of residence or social position of their parents. To support the enthusiasm of the young amateurs, to give them a possibility to test their knowledge and to help them to get in touch with their like-minded friends, astronomical Olympiads are regularly carrying out in Russia which involve some thousands of participants all over the country. Large cities like Moscow or St.Petersburg (former Leningrad) have a good history of these competitions, in Moscow it was 50-th anniversary of city Olympiads in year 1996.
Since 1994 all-Russian Olympiads are carried out by Euro-Asian Astronomical Society in collaboration with the Ministry of Education of Russian Federation. Participants of these all-Russian Olympiads are the winners of local tours (60-150 pupils from the different regions and towns of Russia). These Olympiads consist of two separate tours for every of two or three age groups (for students of 8-9, 10 and 11 forms), the examination of the results and triumphal congratulation and rewarding of winners.
Professional astronomers are involved into the composition of exercises on astronomy and their checking. Exercises include tasks and questions on different branches of astronomy and astrophysics which are quite availible for schoolchildren. Some amateur experience is also desirable. Winners of these Olympiads obtain privileges if they plan to enter Moscow or St.Petersburg Universities to study physics or astronomy. Olympiads were carried out five years in a row in different cities of Russia till now.
As the next step, organizers plan to include some representatives of former soviet republics as competitors enjoying full rights, to extend the area of participants beyond Russia.
In addition,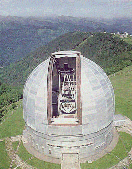 the Autumn Astronomical School is organized for the winners of these Olympiads (about twenty participants) and their teachers of astronomy which accompany them. This School, which lasts about ten days, takes place in the Special Astrophysical Observatory (Northern Caucasus) which possess the largest in Euroasia 6-meter reflector. The program of the School includes the acquaintance with the professional research programs, amateur observations, lectures, site-seeing excursions and recreations.
The exchange of experiences and making contacts with those involving in similar activities is highly desirable.
The following information will be presented later:
Russian Olympiads on Astronomy and Cosmic Physics in 1993/94
Russian Olympiads on Astronomy and Cosmic Physics in 1994/95
Olympiads of NSC

(also in Russian)
St.Petersburg-city Astronomy Olympiads


---