EQUIPMENT
FOR CRYSTAL GROWTH FROM THE MELT
UNDER HIGH INERT GAS PRESSURE
Main technical characteristics:
Working temperature:
up to 1900 oC
Working pressure:
up to 10 MPa
Power:
2-12 kWt (depends on the working temperature)
Ambient medium:
Inert gases or N2
Pulling rate:
from 0.5-1 to 20-30 mm/h
Heater:
Resistive; graphite
Cooling:
Water
Personnel:
1 per 2 devices
Methods of growth:
- High-Pressure Vertical Bridgman (HPVB);
- High-Pressure Vertical Zone Melting (HPVZM);
Crystal shape:
Cylinder, cone or tape (plate)
Max. crystal diameter:
40 mm (standard); 51 mm (by special order);
Max. crystal length:
100 mm (standard); 130 mm (by special order);
Max. tape (plate) sizes:
120 x 120 x 12 mm
Temperature regulator:
Included
Min. room area necessary:
6 m2 per 1 device
Suitable for crystal growth of:
Wide-gap II-VI compounds ( ZnSe, ZnS, ZnTe, CdSe, CdS and their mixtures (e.g., Cd1-xZnxTe, Cd1-xZnxSe);
Other chalcogenides (e.g., GaTe, MnSe, PbSe, PbS, PbTe, Bi2Se3, Bi2Te3);
Doped metal chalcogenide crystals.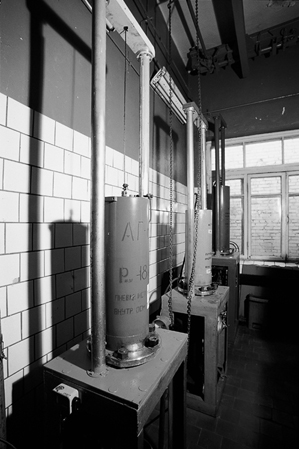 Three devices in the growth room